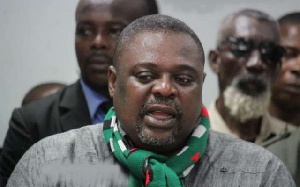 Deputy General Secretary of the National Democratic Congress (NDC), Mr Koku Anyidoho, says it was unfortunate for Vice President Dr Mahamudu Bawumia to do politics on Easter Monday.
According to him, by his action, Dr Bawumia has disturbed Christians in solemnly observing the day after Jesus Christ's resurrection as such.

The Vice President addressed a town hall meeting to mark 100 days of Nana Addo Dankwa Akufo-Addo's government.

The meeting was put together by Accra-based radio station, Joy FM.

Reacting to Dr Bawumia in an interview with TV3 on Monday evening, Mr Anyidoho questioned why the economist will go on a "skewed" platform [Joy FM] to do politics.
The day was wrong, Mr Anyidoho, insisted and the media house is skewed. He wondered why Dr Bawumia would not even wait until the next day, which is a working day, to do politics.

The NDC Deputy General Secretary said the 100 days period was used by the NPP to nurture terrorists.

He explained that pro-New Patriotic Party vigilante groups such as Delta Force and Invincible Forces have been funded by the current government.