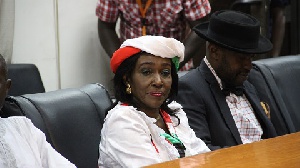 Most of the parliamentary candidates for the National Democratic Party (NDP), founded by Nana Konadu Agyeman- Rawlings, are thieves who were indicted in the financial scandal at the National Service Secretariat that came to light two years ago, Johnson Asiedu Nketia, General Secretary of the National Democratic Congress (NDC), has alleged.
According to Mr Nketia, the NDP's parliamentary candidate for Tain was one of the officials indicted in the scandal.

This situation he said makes Mrs Rawlings unfit to criticise President John Mahama of corruption. The former first lady has accused Mr Mahama of being corrupt and also lacking the capacity to fight against graft in his government, a development that requires he is voted out of office.
But speaking on late afternoon political talk show Ekosii Sen on Asempa FM on Monday, November 21, Mr Nketia said: "Konadu is using officials who were indicted in the scandal that occurred at the National Service Secretariat as her parliamentary candidates.

"You (Konadu) are accusing the NDC of being corrupt, but you are using thieves as parliamentary candidates and so what will you expect if they go to parliament."