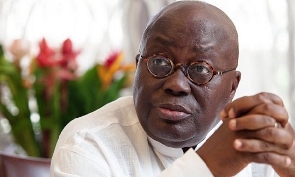 The founder and leader of Heavens Gate Ministries, Prophet Nicholas Osei, alias Kumchacha, has referred to President Nana Addo Dankwa Akufo-Addo as the most cowardly person in the nation because of his express failure to declare his true stance on the controversial Lesbians, Gays, Bisexual, Transgender, Queer (LGBTQ+) issue.
According to Kumchacha, previous presidents of the country, such as the late Professor John Evans Atta Mills, were bold enough to tell Western countries that Ghanaian culture and norms conflict with the LGBTQ+ group's activities, which is why the country abhors such practices, but Akufo-Addo is reluctant to express his position on the subject matter.

"See, if you want the most cowardly person, then it is Nana Addo, why am I saying that? If you want someone who is a coward then it is president Akufo-Addo.

"…what Kumchacha, I am saying is that our father President Nana Akufo-Addo…I am saying he has disappointed Ghanaians, he has disappointed Ghanaians and I am saying it categorically because, in President Atta-Mills' time, he was brave enough to say that, we won't accept it, and I clap for him, he was a true Christian.

"But for President Akufo Addo, the same issue has come to him more than 4 times, still he can't tell them we don't like it," he said.

Kumchacha argued that in accordance with Ghanaian cultural norms and values, men are supposed to be partners with women and not people of same gender acting as partners of each other.

Speaking in an interview on Onua FM, on April 05, 2023, he further explained that even animals prefer the opposite gender when having sexual relations and he doesn't understand why a fellow human being would choose to identify as gay or lesbian.
"I have said this before, that for a man to marry a man and a woman to marry a woman, is nasty. So, every man who sleeps with a fellow man, and every woman who marries a fellow woman is mentally ill. We need to go and examine their brains. Yes, because monkeys don't even do that, ducks don't do that, sheep and other animals don't even do that," he added.

President Nana Addo Dankwa Akufo-Addo recently disclosed that the anti-LGBTQI bill curently before parliament has been modified.

Akufo-Addo further stated that even if the bill is passed, it will still have to be ratified by him.

He made these remarks while addressing the press at the Jubilee House together with the Vice President of the United States of America, Kamala Harris, on Monday, March 27, 2023, adding that the modification of the Anti-LGBTQI bill was after the intervention of the Attorney General and Minister of Justice, Godfred Dame.

That claim of a watered down version of the Bill has been rejected by Sam Nartey George, one of the dozen MPs that sponsored the Bill.

Watch the latest episode of The Lowdown below:


You can also E-Forum below.





AM/SARA