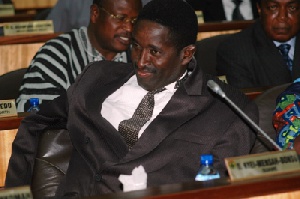 The Member of Parliament (MP), for Buem constituency Mr Daniel Kwesi Ashiamah, has expressed disappointment in lawyer Nkrabeah Effah Dartey for stating that the call for the arrest of Bugri Naabu holds no water.
The legislator speaking on Rainbow Radio 87.5Fm said, he felt embarrassed at the unfortunate position taken by lawyer Nkrebeah Dartey. The private legal practitioner had told the host that, the call by family of Gregory Afoko on the police to arrest Bugri Naabu over his allegation holds no water.

The family of Gregory Afoko has called for the arrest and interrogation of the Northern Regional Chairman of the New Patriotic Party (NPP), Daniel Bugri Naabu, Gender Minister Otiko Afisa Djaba and Mr. Kamal-Deen Abdulai, the National Nasara Coordinator of the New Patriotic Party (NPP) for having a hand in the murder of the former Upper East Regional Chairman of the New Patriotic Party, Alhaji Adams Mahama.

According to them, the retraction by Bugri Naabu should not be accepted and his arrest must be effected immediately. Their call follows allegation by Bugri Naabu some few weeks ago that, the Gender Minister, Otiko Djaba had a hand in the death of Adams Mahama.

But lawyer Dartey in his view said, outside the court room, the allegation of Bugri Naabu cannot be admissible. The MP in his submission said, the lawyer goofed big time.

The MP quizzed, ''How can you say that a comment outside a court room cannot be admissible? Which court in Ghana creates its own case? Hon. Ashiamah said the lawyer took the position along partisan lines. ''If someone had alleged that someone had a hand in the murder of a person, we should arrest and interrogate him. You [lawyer Dartey] is not worried about the incarceration of Gregory Afoko.
I am highly disappointed and when I see him, I will run from him because I'm embarrassed.'' In his view, the comments by the lawyer was a slap in the face of Gregory Afoko's family and has charged him to apologise for insulting them. Ghanaians he added, are following the issue keenly adding, this issue cannot be swept under the carpet.

The MP lambasted the NPP and described them as a sub-standard government which has decided to treat the allegation anyhow. ''He who alleges must prove, so Ghanaians are waiting. You cannot sweep this case under the carpet.

It cannot happen that way. If a senior member of the party could make such a serious allegation on radio and his party members ask for forgiveness on his behalf, then that is serious.

That is why we have insisted that, the NPP government is below standard; that is sub-standard government. We cannot handle this issue like that, we have to be serious in this country,'' he fumed.