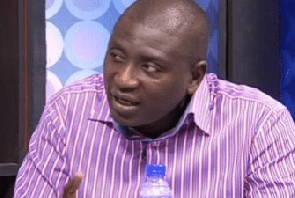 Flagbearer hopeful for the New Patriotic Party, Kojo Poku has stated that popularity is not a prerequisite for someone who wants to lead or govern Ghana.
Kojo Poku picked up his nomination forms today (May 30) at the NPP headquarters to affirm his inclusion in the upcoming party presidential primaries.

In an interaction with the press, he said that he believes in innovation and competence over popularity and these are the very things he is bringing to the table.

"I'm bringing innovation, I'm bringing competence. People think that leadership is about popularity, it's not. I have always said that innovation over popularity, competence over popularity," Kojo Poku stated.

The politician also added that he doesn't have to be widely known for people to believe in his good works or qualify to lead the party.

He added, "A lot of people don't know me and it's not the reason. The party constitution says that you have to be five years in good standing and you basically can lead the party. So, if you do not know me and I'm not popular, my good work will bear fruits and you now get to know who I am."

Kojo Poku also boasted about the Central Region of Ghana being a stronghold of his campaign.


You can also watch the latest episode of People & Places on GhanaWeb TV:





ABJ/SARA