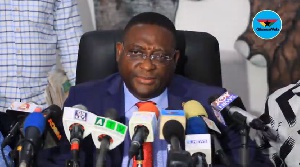 The governing New Patriotic Party (NPP) has described comments allegedly made by the chairman of the main opposition National Democratic Congress (NDC), Samuel Ofosu-Ampofo, in a leaked tape to the effect that NDC communicators should "wage a war" on the chairperson of the Electoral Commission, Mrs Jean Mensa, and insult the Chairman of the National Peace Council, Prof Emmanuel Asante, as "bad and ugly".
A leaked tape purported to be the voice of Mr Ofosu-Ampofo in a meeting with party communicators said: "we're going to take her [EC boss] to the cleaners."

"As for the EC chair, we must wage a relentless war on this EC chair. Me, she doesn't want to see my face," Mr Ofosu-Ampofo said.

Mr Ofosu-Ampofo also gave his blessing for the party communicators to insult Prof Asante.

"For the first time, I'll endorse insulting the National Peace Council Chair," he said.

The alleged meeting between the chairman and members of the party was aimed at planning strategies ahead of the 2020 elections.
Director of Communications for the NPP, Yaw Buabeng Asamoah, reacting to the leaked tape in a press conference on Wednesday, 27 February 2019 said: "What has happened is bad and ugly. Right thinking members of the NDC need to move fast and distance themselves from this shameful leadership. Those in the NDC who believe in the ideology must rise and demand resignations.

"All those culpable must account to the NDC first, and to the nation, so that they restore their moral right to participate in the decent politics of this country.

"As for we in the NPP, we'll continue to espouse the rule of law as a basic pillar of our democracy".