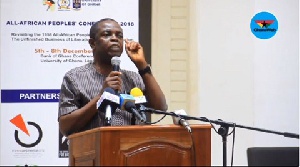 Managing Editor of the Insight newspaper, Kwesi Pratt Jnr., has lambasted the Criminal Investigations Department (CID) of Ghana Police for detaining the National Chairman of the opposition National Democratic Congress (NDC), Samuel Ofosu-Ampofo, for hours.
The NDC National Chairman was invited by the CID days ago but he failed to honor the invite and rather reported himself to the CID on Monday, February 4, 2019.

Mr. Samuel Ofosu-Ampofo joined by executives and high-profile members of the NDC went to the Police Headquarters in Accra Monday morning but was granted bail in the evening.

The CID has come under intense criticism from the party's rank and file for holding up their National Chairman in their custody for hours till evening before allowing him to go.

NDC Communicator, Fred Agbenyo speaking to host Kwami Sefa Kayi on Peace FM's 'Kokrokoo' on Tuesday, February 5, 2019, held strongly that the CID did not comport themselves well because to him, they unnecessarily delayed the executives and members of the party as well as their National Chairman.

Addressing the issue on 'Kokrokoo', Kwesi Pratt also rebuked the CID wondering why they failed to let Mr. Ofosu-Ampofo leave the place earlier but rather held him for such long hours.

He stated that both the New Patriotic Party and NDC have the tendency of doing that whenever they come into power but he expected the CID to have conducted themselves differently to set a good example.


Although he wouldn't agree that Mr. Ofosu-Ampofo should have been given preferential treatment since no person is above the law, Mr. Pratt noted that such behaviour should be a thing of the past.

"Every citizen is entitled to the same treatment by the Police . . . if you invite someone and he reaches there at 8 O'clock but had to wait for 5 hours before you call him, what is that intended to achieve?" he questioned.