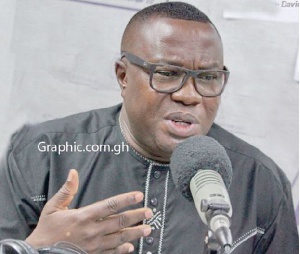 The Chief Executive Officer of the Microfinance and Small Loans Centre (MASLOC) Stephen Amoah has called on the leadership of the Pentecost Church to immediately banish or suspend the Chairman of the National Democratic Congress, Samuel Ofosu-Ampofo, over his comments on a leaked tape.
In a leaked audio, Mr. Ofosu-Ampofo is heard allegedly telling party communicators that "we're going to take her [EC boss] to the cleaners."

"As for the EC chair, we must wage a relentless war on this EC chair. Me, she doesn't want to see my face," Ofosu-Ampofo allegedly said at the meeting which took place after the Ayawaso by-election.

As part of strategic communication plans for the NDC going into the 2020 elections, Ofosu-Ampofo also gave his blessings for the communicators to verbally attack the Peace Council chairman Professor Emmanuel Asante.

He has been invited by the Police CID over the comments on the leaked audio.

Speaking on GHTODAY on GHONE TV Thursday, Mr. Amoah said the claims by Ofosu-Ampofo are damning and must be taken serious by the Pentecost Church of which he is a staunch member and an Elder.
"In this case I think they [Pentecost Church] must get the man banished…at least for one or two years…I am just making this official statement to Pentecost, they must get the man suspended," he said adding "Ofosu-Ampofo must go back to God and ask for forgiveness," Mr. Amoah told host Serwaa Amihere.

Meanwhile, the NDC has strongly denied contents of the leaked tape saying that the statements and attributions contained on the said tape are concocted and false and "inconsistent with the character and track record of Chairman Ofosu Ampofo and do not reflect the values he has always stood for."



According to the party, "the maliciously depraved and clearly doctored tape has been contrived by some devious elements in the NPP and government to undermine the NDC and its National Chairman."