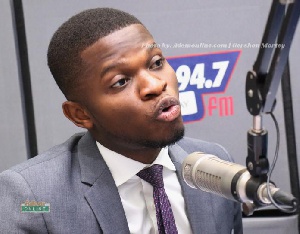 A leading member of the National Democratic Congress (NDC) has launched a scathing verbal attack on journalists; particularly political show hosts, for airing the damning leaked tape of the opposition party's National Chairman, Samuel Ofosu-Ampofo, on their various shows.
National Communication Officer, Sammy Gyamfi, speaking on Okay FM's 'Ade Akye Abia' programme, singled out ace broadcaster, Kwami Sefa Kayi and other journalists at Multimedia, for his verbal blitzkrieg, describing them as a "bunch of hypocrites".

He accused them for their "open-bias" and "selectivity", relative to the airing of leaked tapes involving political actors.

According to Sammy Gyamfi, the host of 'Kokrokoo' on Peace FM, Kwami Sefa Kayi, on several occasions has blatantly refused to give mileage to leaked tapes that has the possibility of exposing and disgracing members of the New Patriotic Party (NPP) on his morning show platforms.

But surprisingly, he added, he (Sefa Kayi) did not bat an eyelid in playing the infamous Ofosu-Ampofo leaked tape.

The NDC Communications Officer then turned his blazing guns on Joy FM, castigating the station for its decision to not only air the leaked tape, but to transcribe its contents verbatim as well, on its online portal.
"These bunch of hypocrite journalists will never play leaked tapes on their shows so far as they have negative repercussions on the NPP. However, they are quick to play leaked tapes that involve the NDC like we are seeing today," he said.

Leaked Tape Policy

Interestingly, Peacefmonline.com checks with Producers of the 'Kokrokoo' programme and host of the show, Kwami Sefa Kayi indicates that the said tape has not even been played on the show. Thus, they are at a loss what could have informed the young politician's verbal attack.

According to the Chairman-General, as Sefa Kayi is affectionately called, he has a timed-honoured policy of not playing leaked tapes on his show, as such Ofosu-Ampofo's tape is of no exception.


"I don't play leaked tapes and will not play this one too," was his response to our enquiries.

CID Invites NDC Chair

In a related development, the Criminal Investigations Department of the Ghana Police Service, has invited the Chairman of the opposition National Democratic Congress over the circulating leaked tape.

In the leaked recording of an alleged meeting of the party's communicators, a voice believed to be that of Samuel Ofosu -Ampofo, reveals militia groups (Azorka boys and Hawks) were brought to the Ayawaso West Wuogon by-election by the NDC.

Mr Ofosu-Ampofo, who could be heard speaking to some party members without equivocation, noted the NDC will target lives of NPP members in 2020 since state security cannot protect them.
According to him, another delicate aspect to win the 2020 election is targeting the EC Chairperson, Madam Jean Mensa.

"We must wage a relentless war on this EC Chair, me she doesn't want to see my face ..." he told the party gathering.

"We will go after them, but we will not go after them face-to-face. We have to use tactical operation to make life very uncomfortable for them. We will target some people and we will let the people know that their lives are in danger," Ofosu-Ampofo allegedly said.