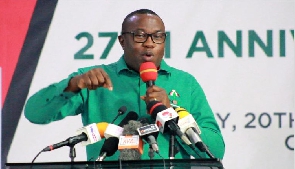 An Accra High Court has dismissed an application filed by Mr Samuel Ofosu-Ampofo, National Chairman of the main opposition National Democratic Congress (NDC) seeking to halt his criminal trial.
The trial judge Justice Samuel Asiedu in his decision on Tuesday, 30 July 2019 said the concerns raised by the lawyers of Mr Ofosu-Ampofo lacked merit and will continue hearing the case, while the appeal is heard.

Mr Ofosu-Ampofo had filed an application to stay proceedings before the court, following an appeal of the judge's decision to dismiss two out of the three charges against him.

He is standing trial following a leaked tape in which he is heard allegedly giving his blessings to party communicators to attack the Electoral Commission Chairperson and the Chairman of the National Peace Council.
A Deputy Communication Officer of the party, Mr Anthony Kweku Boahen is also standing trial as the second accused person in the same matter.

They all pleaded not guilty to the charges of conspiracy to cause harm and assault against a public officer.