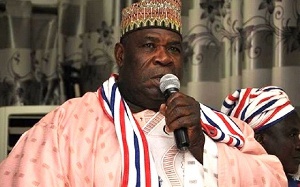 Twum Boafo, a lecturer at the Valley View University has stated that he and three fellow lecturers will petition the Inspector General of Police (IGP) and the Bureau of National Investigation (BNI) over statements made by the New patriotic party's (NPP) Northern Regional Chairman, Mr. Daniel Bugri Naabu.
In a telephone conversation on Ahotor FM's morning show, Oman yi mu nsem with Emmanuel Quashie (Hitman), Mr. Boafo confirmed that he and other three lecturers are giving the IGP 10 days ultimatum to call the Northern Regional Chairman, Mr. Daniel Bugri Naabu for interrogation on his statements made.

It can recalled that the Northern Regional chairman of the ruling New Patriotic Party has accused two ministers in the current Akuffo Addo government of being involved in the plot that led to the murder of Adams Mahama, the late NPP 's Upper East Regional Chairman.

"….Otiko has been a controversial woman in the party. As I'm telling you, this Adams issue, she was deeply involved, so because of that most of us who know her call her a controversial woman.

" You'll be surprise that some of these people who masterminded the killing of Adams have come to take positions in the government…. like the upper East Regional Minister. He was deeply involved in the masterminded killing of Adams. " Mr. Bugri Naabu stated on radio XYZ, on May 2017.
Following this statements the northern regional chairman has retracted his unsavory comment against the upper east regional minister Reckon Bukari and has since apologized.

In this development there has been a calls by people for the police service and BNI to call on the Regional chairman to present concrete evidence to back his allegations against the upper regional minister, including the crusading Guide Newspaper's editor Kwaku Baako jrn.

Mr. Twum Boafo believes that if this matter is left without further interrogation it will leave a lasting criminal allegation against Hon. Bukari and Hon. Otiko Djaba therefore the need for his petition .

He is calling on all citizenry to speak for further probe into Chairman Bugri Naabu's allegations.