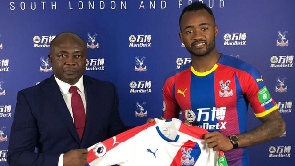 Cameroon legend Samuel Eto'o has expressed admiration for Ghanaian football icon Abedi Pele, according to Black Stars forward Jordan Ayew.
In a conversation, Ayew discussed his father's legacy with Eto'o, who currently serves as the president of the Cameroon Football Federation.

Ayew, acknowledging the significance of Eto'o's opinion, emphasized that his father's reputation as a top player is further solidified by the praise he receives from renowned figures in the football world.

Abedi Pele, the 1993 UEFA Champions League winner, is widely regarded as the greatest Ghanaian footballer of all time.
Abedi Pele's impressive achievements include being named African Footballer of the Year on three occasions and leading the Black Stars to victory in the 1982 Africa Cup of Nations (AFCON).

Ayew remarked, "When I go to places and I hear players like Samuel Eto'o speaking about him, that shows that he was a top player."

"I looked at videos and I heard people speaking about him. He was incredible, and back home he is still seen as one of the best Africans to ever play the game."