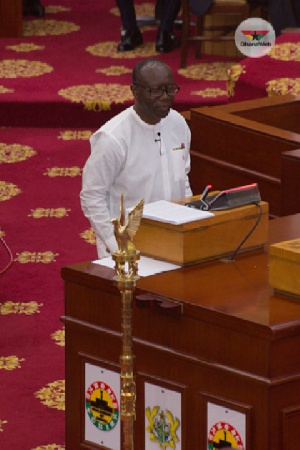 Finance Minister Ken Ofori-Atta has urged Ghanaians to follow President Nana Addo Dankwa Akufo-Addo's steps to hurriedly fix the country.
During his maiden State of the Nation address on Tuesday, February 21, Mr Akufo-Addo said he was in a haste to fix Ghana.

"I have heard it said that I am behaving like a man in a hurry. Mr Speaker, I am indeed in a hurry…the times in which we live demand that we all be in a hurry to deal with the problems we face. We are going to have to implement some tough, prudent and innovative policies to get out of this financial cul-de sac," Nana Akufo-Addo stated adding that he must be in a hurry to fix Ghana because the reality of the state of Ghana's public finances today is "quite stark".

Similarly, Mr Ofori-Atta, presenting the 2017 budget on the floor of parliament on Thursday 2 March after disclosing that the country's debt stock had reached an average of 73 per cent of GDP as at the end of 2016, stated: "The president did mention that he was in a hurry. Mr Speaker, we must all be in hurry. We must trigger a national sense of urgency to deal with our deficits. It is its continual presence that curtails our capacity to leverage our many opportunities and resources that we have as a nation."
He noted that Ghana cannot borrow its way out of its many challenges which, according to him, will be tantamount to creating and sharing poverty leading to a loss of fiscal sovereignty.

"So, like the president, we must all be in a hurry to grow our way into prosperity," he stressed.