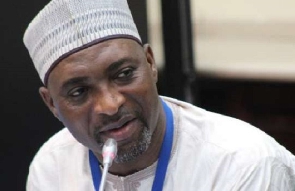 The incumbent Member of Parliament of Asawase constituency in Ashanti region, Alhaji Mohammed Mubarak Muntaka, says, his least worry in politics is to lose the Asawase parliamentary seat to NPP in the upcoming 2020 general elections.
The ruling NPP Ashanti regional executives months ago NPP launched operation capture all parliamentary seats in Ashanti to give them a boasting right over other regions as a stronghold of the ruling government.

The targeted seats according to regional Chairman of the party Bernard Antwi Boasiako known in politics as 'Wontumi' include Asawase, Sekyere Afram Plains, and Ejura Sekye-Odumase constituencies.

The party's regional executives believe the target for the region going into elections 2020 is achievable because of the close gap between the party and their major opponent the opposition National Democratic Congress (NDC) after analyzing 2016 general elections results in the region.

In view of the NPP's agenda, the party at a regional council meeting in Kumasi resolved to block all parliamentary aspirant hopeful seeking to contest Municipal and District Chief executives in the party's orphan constituencies who represented the party in the 2016 parliamentary election in the person of Alidu Seidu Asawase, Mohammed Salisu Bamba-Ejura Sekyere Odumase and Joseph Owusu-Sekyere Afram Plains constituencies to go unopposed in the parliamentary primaries.

Even though the move is fearlessly being opposed by some party faithful's and other political watchers, however, the regional executives believe that is the only option available for the party to win those parliamentary targeted seats.
However, responding to the NPP's agenda in Ashanti region, incumbent Member of Parliament for the Asawase constituency Muntaka Mubarak told Ultimate FM's Isaac Justice Bediako that, it has never crossed his mind that he'll ever lose the seat to the ruling party.

"The NPP has always been making noise about the Asawase seat, but I always beat them. When they were in opposition they said a lot about Asawase and gave all the promise they could associated with sweet lies to my constituent, they are in power now and there's nothing to show to be honest. All projects my government couldn't complete before we handed over power to them remains uncompleted including the roads we were constructing. I doubt if they have any message for the people of Asawase prior to election 2020'' he said.

He added, "all of us staying in Kumasi have no doubt about who is capable of developing Asawase, Alidu should tell me since he became MCE for Asawase the number of roads he has constructed in addition to what we left including classroom blocks, bridges among other infrastructural projects. I can assure you they have nothing to show, so for me, Alidu Seidu or Manaf are my least worry in Asawase 2020 parliamentary election'' he stressed.

The senior Member of Parliament admitted there are factions in his constituency following the constituency executive's refusal to issue out parliamentary primary forms to Masawudu Mubarak who is alleged to be on suspension.

"I must admit that there are factions in my constituency but they are very few so is not alarming as people think. It happens in every election year so this is not new to me, however, I have started talking to them and we will soon resolve all internal issues in my constituency as a leader'' he assured.