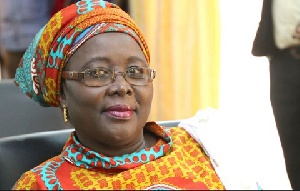 The Minister of Local Government and Rural Development Hajia Alima Mahama the thebftonline.com has gathered, has directed all Metropolitan, Municipal and District Assemblies (MMDA) to scrap levies charged head porters also known as 'Kayayei'.
In a letter to the MMDA's Hajia Alima Mahama directed, the assemblies to review their by-laws and abolish any form of tax on head porters in their various markets by constituting a meeting of assemble members.

This when done it will be in line with President Akufo-Addo's government position to have all taxes and levies charged head porters in the country abolished.

The Akufo-Addo government proposed to scrap some taxes which its described as nuisance taxes, during its campaign for votes in the December 2016 elections.

The move, according to the Finance Minister Mr. Ken Ofori-Atta, is expected to spur on growth and provide adequate incentives for the private sector.

Key among the taxes to be abolished by the government is the market tolls paid by head porters (Kayayei) in the local markets.

Speaking to the thebftonline.com the Local Government and Rural Development Minister Hajia Alima Mahama said the assemblies have been directed to immediately convene a meeting to scrap the levy.
"it's not only a budget statement but it is also a government economic policy. So, in this budget statement and economic policy the President is saying that we do not approve of a "Kayaye" levy and it should be removed. The next stage was for me to then write to the assemblies to direct that, government does not approve of levies on "Kayayes". And so, the government expects that steps are taken immediately to scrap them."

Apart from the kayayei market tolls, excise duty on petroleum products will also be abolished. The government also intends to reduce the special petroleum tax rate from 17.5% to 15%.

Also, the 17.5% VAT imposed on traders is to be replaced with a 3% flat rate, while businesses that employ young graduates from tertiary institutions will get tax credits and other incentives.

Furthermore, there will be tax incentives for young entrepreneurs while the Corporate Income Tax will be progressively reduced from 25% to 20% in 2018.

Additionally, the Akuf-Addo government is expected to initiate steps to remove import duties on raw materials and machinery for production.