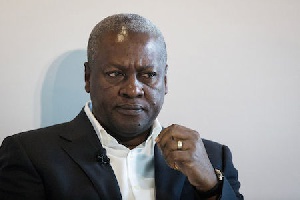 President John Mahama has spoken against the recent violence in the biggest opposition Party at Asawase in the Ashanti Region.
Thirty-seven-year-old Abubakar Saddiq died out of multiple stab wounds inflicted on him by a mob of a rival faction in the Party.

The fight was a consequence of the suspension of the National Chairman Paul Afoko.

Saddiq's murder comes about six months after a similar NPP-on-NPP violence which claimed the life of the Party's Upper East Regional Chairman Adams Mahama, allegedly by Mr Afoko's brother Gregory Afoko, who is standing trial.

President Mahama said in the Upper West Region that: "Recently another supporter was stabbed, it's not acceptable."

"I have asked the police to investigate those who did it and bring [them] to book. There is no place in our politics for this kind of violence. No amount of political power is worth the drop of blood of any single Ghanaian.
"Politics is not a life and death struggle. Politics is life and let's live," he said. Meanwhile Police in the Ashanti Region have identified the prime suspect and have also retrieved the weapon used for the stabbing.

Some other suspects have been arrested in connection with the crime. Constituency Chairman Isaac Brenya is one of them.

At a press conference on Monday, Regional Police Commander DCOP Kofi Boakye said: "We have arrested Isaac Brenya, we have arrested Bawa Musa, who actually followed the deceased together with the prime suspect. We have arrested Louis Mensah, Zakaria Seidu, Hajia Wasila Gariba; and these are all from Chairman Brenya's side."

"And those who are declared wanted from that side are Issa Usman, Asawase Constituency youth organiser – whoever knows him [should ask him]… to report to the Police," DCOP Boakye added. The remaining fugitives include "Ali Issa, alias Lebu; 'Million', 'Big Man', 'MC' and the prime suspect himself is Mahamadu, alias Duna; he is the one who stabbed the deceased," DCOP Boakye noted. The others are Baba Fuseini, Vera Sadat, and Paapa.

DCOP Boakye said contrary to earlier reports that a certain '50 CENTS' was the prime suspect, no such person has been identified by investigations so far. "I must state here and now that our investigations did not reveal the presence of any '50 CENTS' on the scene of crime."
"The following persons, who conspired to vandalise the Party offices have also been arrested…They are: Awal Mohammed and Tanko Abubakar. Now we want Awal Tuarez to also come and give us information," Kofi Boakye announced to Journalists at the Police Command.

He said the Police are treating the murder as a purely criminal case. "This is a murder investigation devoid of any partisan, tribal or sectional consideration. Therefore, we will like people to allow the Police to do their work. We don't know any faction. We don't know any political party. All that we know is that somebody has been killed. Our questions [are]: Who killed him? What weapon was used to kill him? Was the killing unlawful? And if all these questions are answered in the affirmative, then we have a murder on our hands."

"Because of the serious nature of the crime, the investigation is under the direct command of the regional commander and under the supervision of the crime office," he said.

As far as the prime suspect is concerned, DCOP Boakye said the Police are very certain that 'Duna' was the killer. "We are now looking for these people: 'Big Man', 'Lebu' and 'Duna', who, actually, and I insists, and this is confirmed that Duna, alias Mahamadu stabbed Saddiq Abubakar in a single alley after he had been chased by Lebu, holding a locally manufactured pistol and 'Big Man', followed by Bawa Musa."

The 37-year-old's murder followed a petition by some constituency executives to the leadership of the Party to reinstate suspended National Chairman Paul Afoko.