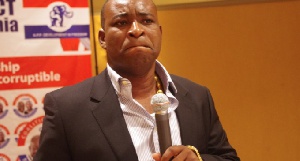 Tue, 3 Nov 2015 Source: peacefmonline
President Mahama has been accused of being responsible for stoking fire in matters tearing the New Patriotic Party apart.
The Ashanti Regional Chairman of the NPP, Mr. Bernard Antwi-Boasiako blamed the president of taking advantage of the crisis within the party to enhance his stay in power.

Mr. Bernard Antwi-Boasiako informed Okay FM in an interview that President Mahama had scouted and dispatched moles into the NPP to ensure the party knows no peace.

The Ashanti Regional Chairman of the NPP, popularly known as Chairman 'Wontumi', further lashed out at some senior members of his party who had allowed President Mahama to buy their conscience with money.

He refused to drop any name but maintained that some senior executives of his party are deliberately causing trouble in the NPP because they have been promised material gains by the president.

"President John Mahama is doing everything he can to ensure confusion remains in the NPP. He is doing this to cover his incompetence," he said.
Bickering in the NPP intensified after the National Executive Committee (NEC) of the party suspended Paul Afoko as National Chairman.

The matter has been dragged to court by some peeved supporters of Mr. Afoko and this has brought less peace to the party.

But Chairman Wontumi strongly believes President Mahama and the National Democratic Congress have channeled their strength and continue to bruise the sores of the NPP to accomplish biased gains.

He further counseled the suspended National chairman, Afoko, to make use of internal systems in the party to address his grievances instead of dragging the party to court.

"I was suspended too during my time as chairman of the party in Bosumtwi but I never took the party to court…what I did was that I met the various organs in the party and explained myself to them and finally, I was restored…," he said.
Source: peacefmonline