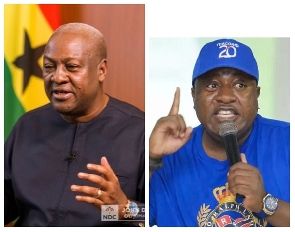 National Organizer for the governing New Patriotic Party (NPP) Henry Nana Boakye known popularly as Nana B has bemoaned the attacks on the Judiciary by the opposition, National Democratic Congress (NDC).
The disrespect for the judiciary in his view, ought to be blamed on former President John Dramanai Mahama who is their leader for showing the way for such unprovoked verbal attacks.

"The leader of the NDC has been bastardizing the court and that is giving the followers some inspiration. One of my senior friends, Dr Ayine, I respect that man, a similar thing happened when we were in court and we all had to beg for him.
It has now become the stock in trade of the former President that any time he is given the opportunity to speak, he will insult the court.

"What's even worrying is the fact that he has in the past won a case in court and wore a white Kaftan to celebrate his win but since he went to court without evidence, the least platform he gets, he insults the court. Is that fair? Is this not recklessness?" he asked.