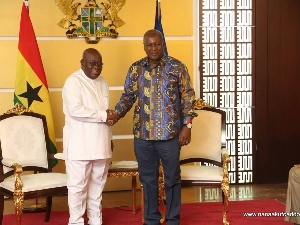 The Mahama administration bequeathed to President Nana Akufo-Addo "five loaves of bread and two fish" to feed over 25 million Ghanaians, Finance Minister Ken Ofori-Atta has said in the new government's maiden budget which he presented to parliament on Thursday, 2 March.
Mr Speaker, the Minister said: "I see our nation with this overwhelming election mandate as all having decided to withdraw in unison like Jesus to a remote place. Mr Speaker, only to discover that we have five loaves of bread and two fishes to feed our 25 million plus fellow citizens."

"But herein lies the genius of the Ghanaian, "for we are God's handiwork created in Christ Jesus to do good works which God prepared in advance for us to do."

"As you can see, Mr Speaker, with 5 loaves and 2 fish, President Akufo-Addo's budget has tackled the five structural pillars of revenue, expenditure, earmarked funds, labour and our debt. Budgetary allocations have been made from tax revenue, ABFA and the realignment of statutory funds to fund these priority programmes.

The breakdown of the funding sources are, ABFA GH¢342.0 million, tax revenue GH¢785.0 million, and realignment of statutory funds GH¢1.08 billion. This has been done through prioritisation of expenditures and planned improvement and efficiency in government spending," Mr Ofori-Atta said.
According to him, "in addition to funding these significant number of programmes with lesser resources than was spent last year, we have allocated over GHS 700million for capital expenditure seven times more than was allocated last year, funded NHIS and free SHS, provided tax relief for the private sector and all other socio economic classes, reduced levies on petroeum products, reduced electricity prices, provided a stimulus for the private sector and agricutlure and brought down the deficit from 8.7 percent to 6.5 percent.

But that is not all Mr. Speaker, for a heritage of 12 baskets full of fish and loaves is yet available to further sow for growth and jobs."

Read the full statement below