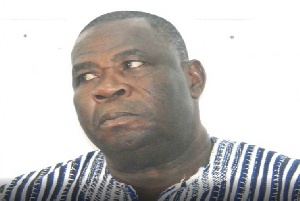 The Inspector General of Police (IGP) David Asante-Apeatu must immediately invite the Northern regional chairman of the NPP Bugri Naabu over allegations that Gender Minister Otiko Djaba has a hand in the murder of Adams Mahama.
Maverick Naabu on Monday accused Ms. Djaba and the Upper East regional minister Rockson Bukari of being behind the killing of the late Upper East regional chairman of the NPP.

"…Otiko has been a controversial woman in the party. As I'm telling you, this Adams issue, she was deeply involved, so because of that most of us who know her will call her a controversial woman.

"You'll be surprised that some of these people who masterminded the killing of Adams have come to take positions in the government … like the Upper East Regional Minister. He was deeply involved in the masterminded killing of Adams," Mr. Naabu told Radio XYZ.

Touching on the revelation, a lawyer and a member of the opposition National Democratic Congress (NDC) Abraham Amaliba told Benard Nasara Saibu the police and the attorney general must be interested in the allegation.
"The State must be interested and investigations carried out," Mr. Amaliba said on Starr Today Monday.

"I'm calling on the IGP to invite them for questioning for the State to get to the bottom of this matter. Why he [Naabu] kept quiet over this was for political gain."

According to him, the lawyers for Gregory Afoko – the suspect standing trial for the murder – must be interested in this evidence.

Mahama was killed in May 2015.