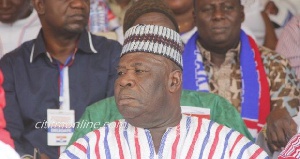 Lawyers for the Upper East Regional Minister; Rockson Bukari has served a notice to the Northern Regional Chairman of the New Patriotic Party; Daniel Bugri Naabu over allegations made towards the former, accusing him of being the key architect in the murder of Adams Mahama.
In the notice served, Rockson Bukari is demanding an immediate retraction and an unconditional apology from Bugri Naabu for his defamatory comments against him. He also stated on record that the allegation made against him is completely false and that explains why investigations by authorities have not linked him or any other person to the reprehensible act.

Bugri Naabu on Monday, May 8 accused Otiko Djaba and the Upper East Regional Minister Rockson Bukari of being behind the killing of the late Upper East Regional Chairman of the New Patriotic Party (NPP).

"You could remember Adams Mahama who certainly died when he was bathed with acid, [it was through] the same secret meetings …", Mr Bugri Naabu alleged in an interview with Radio XYZ while responding to allegations of bribery made against him by Ms Djaba whose "secret" meeting he scuttled on Saturday.

"You'll be surprised that some of these people who masterminded the killing of Adams have come to take positions in the government … like the Upper East Regional Minister. He was deeply involved in the masterminded killing of Adams," Mr Bugri Naabu alleged to Radio XYZ's Reporter Isaac Nognya in an exclusive interview.
He further indicated that "Otiko has been a controversial woman in the party. As I'm telling you, this Adams issue, she was deeply involved, so because of that most of us who know her will call her a controversial woman…"

It will be recalled that Adams Mahama was murdered in an acid attack at his residence in May 2015.