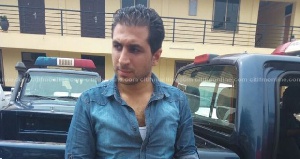 Lawyers for Jihad Chaaban, the Abelemkpe supervisor of Marwako Fast Foods Limited, say they will appeal against the nine-month imprisonment sentence handed their client by a District Court on Wednesday.
"We entirely disagree with the findings of the court, we thought that we put up a very good defence, she [judge] thought otherwise. She did not even consider when the lead investigator on the case said in evidence before her that it was an accident. We have said time and again that this was an accident, she thought otherwise. We have taken instructions from our client to appeal immediately. We are going back to our chambers to start working on that process. One day in incarceration is so bad, so we are going to apply for bail pending appeal and of course this is a sad day for us," his lawyer told Class News' Mercy Akrofi.

The Abeka District court sentenced Mr Chaaban to nine months in jail for dipping the face of Evelyn Boakye, a kitchen staff, in pepper paste.

Chabaan was found guilty of assault and causing harm.

Evelyn Boakye, the victim, at the last hearing in the civil case, opted for an out-of-court settlement, a decision which compelled the court to adjourn its judgment to today, Wednesday, 2 August.
Magistrate Victoria Ghansah had said at the last hearing that she got notice of the out-of-court settlement on Monday, July 24 and so deferred judgment pending the amicable settlement report.

In her judgment on Wednesday, Ms Ghansah threw out the terms of settlement.