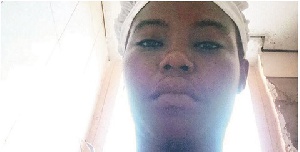 The 25-year-old Evelyn Boakye who was inhumanely treated by her supervisor at the Abelenkpe branch of Marwako is suffering from withdrawal symptoms, her lawyer has said.
According to Francis Xavier Sosu, his client appears to be suffering from some emotional and psychological trauma and has visited the hospital over it.

"She seems to be experiencing some emotional and psychological trauma after the incident at Marwako. She was admitted at the hospital yesterday but we believe she will be discharged later today.

"I wouldn't be surprised if Evelyn has a bipolar disorder as a result of the incident. Evelyn Boakye has not behaved this way before per the information reaching me," he told Francis Abban on the Morning Starr Friday.

He, however, said the situation of his client will not affect their case in court.

Meanwhile, Jihad Chaaban, the Lebanese supervisor who splashed pepper paste on Miss. Boakye has been granted bail in the sum of Ghc20,000.

The judge also ordered Chaaban, who has pleaded not guilty, to report twice a week – Tuesdays and Fridays – to the police.
Background

The 25-year-old was inhumanely treated by Chaaban at the Ablenkpe branch of the food company. According to her, Chaaban shoved her face into hot pepper paste and preventing her other colleagues from coming to rescue her.

Narrating her ordeal, the victim told the Daily Graphic that although she had been employed to work in the Rice Department, she was occasionally asked to help in other departments where more hands were needed, however, on Sunday, February 26, 2017, she was asked to help in the Full Chicken Department, where she was instructed to blend fresh pepper for the seasoning of the chicken.

Commenting on the abusive treatment meted to Ms Boakye Tuesday in a recent interview, Ms Djaba said: "After 60 years of independence, nobody's right should be infringed upon and as the Minister for Gender, Children and Social Protection, that message is at the core of our vision and what we have to do for Ghanaians and so I'm taking this matter seriously.

"I will meet the management of Marwako, I'll meet the victim and then we will have discussions with the Ministry of Employment and TUC and other organisations that are owned by foreigners and even Ghanaian employers. We must respect each other; I think that is at the bottom of what is going on. It is the lack of respect, we need to respect our employees because we cannot do what they do."

The restaurant has since condemned Chaaban's act as the police take up the issue.