Regional News Thu, 13 Dec 2018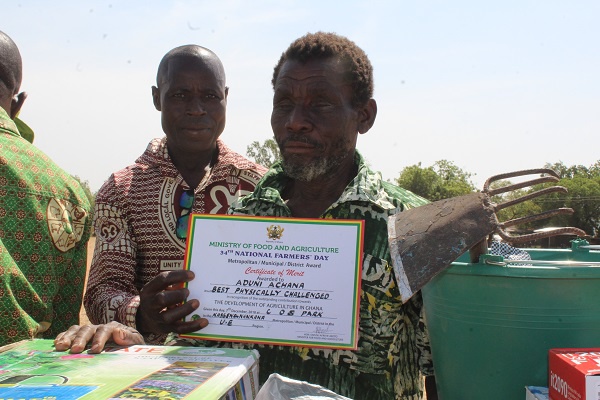 Farming, especially in rural areas that lack the benefit of technology, is a tough job that requires a great deal of many things including the gift of sight. It is even more tedious and challenging when people suffering disability in one way or the other, engage in it.
This is mostly due to the unavailability of a support system for them, coupled with their physical unfitness.

For these reasons and many others, a lot of physically challenged persons in rural farming communities are discouraged from the agricultural activity which is a source of livelihood and occupation for many people.

It has also created the impression and reinforced the belief that the practice is the sole preserve of the abled in society who possess both physical fitness and the financial muscle.

But one man, who has beaten the odds to stand out tall, in all his over 35 years of active farming, despite his visual-impairment and very weak financial strength, is 52 year-old, Aduni Achana, a rice farmer from Bonia, a small farming community in the Kasena-Nankana Municipal Assembly of the Upper East Region.

Taking us on a journey of his life as a visually- impaired farmer in an interview with our Reporter, Senyalah Castro Cazo, when he visited him in his home village, Mr. Aduni said the huge responsibilities on him as a man and having to depend on people for his daily bread whiles growing up- a situation which some family members obviously got fed up with, pushed him into farming.

He revealed, in a sad tone, that he enjoyed the gift of sight until he was blinded by an unknown disease at the early age of five. But that, he continued did not stop him from moving into the rice fields to work hard to feed himself and family when the need came.
With his head tilted at an angle, obviously to recollect some memories of his farming journey, Aduni said it took him a great deal of time and difficulty to fit into his new life as a rice farmer, firstly, because of the disability and the lack of resources.

With a strong will that can be compared to none, Mr. Aduni is a rare spectacle to behold when journeying to or working on his one-acre rice farm which is on the other far side of his community. He does that with much precision; one that makes it difficult to believe he is without eye sight.

Daily, Aduni has to deal with crossing two canals on his way to his farm, he told our Reporter. When asked how he manages to deal with that in his state, Aduni laughed it off saying, "the loss of his eye sight has taught him to face all challenges in this life".

Presently, Aduni says the major challenge he faces as a rice farmer is the absence of a system to support him and other farmers with Agric inputs including fertilizers, pesticides and other chemicals.




Another challenge according to him is his inability to acquire more land to expand his farm. He attributes that to his disability and said "people mostly say I can't manage a large farm because of my condition…… But that is not true. I can manage even five acres when give enough money to take care of the farm," he said in Kasem.
Mr. Aduni expressed his happiness for the recognition and award in this year's Farmers' Day Celebration and stated the items given him will go a long way to support in his farming. He however appealed to government to create an environment that will support and encourage physically challenged persons to go into agriculture.

He also wants government to procure certain vital farm machines such combine harvesters to prevent post losses especially in rice farming.

Aduni Achana was part of ten farmers awarded for their contribution to the growth of agriculture and food in the area when the Kasena-Nankana Municipal Assembly joined the rest of the country to celebrate the nation's gallant farmers.

For his award, Mr. Aduni took home a 300-litre deep freezer, a half piece of GTP cloth, a pair of "wallentin" boots and Napsack sprayer.

Other items included containers of weedicides, cutlasses, hoe, radio set, bucket and a certificate of merit.
Source: Senyalah Castro Cazo