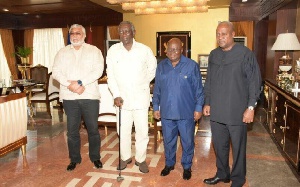 President Nana Addo Dankwa Akufo-Addo's meeting with Ghana's former presidents is a step in the right direction that will further deepen the democracy of the country, Dr Franklin Oduro, Head of Policy and Research at the Ghana Centre for Democratic Development (CDD-Ghana), has said.
On Tuesday April 18, Mr Akufo-Addo had a closed door meeting with Jerry John Rawlings, John Agyekum Kufuor, and John Dramani Mahama.

The meeting was to enable the president seek their views on some governance-enhancing measures his administration intended to take.

Speaking on this development in an interview with Class91.3FM's Paa Kwesi Parker-Wilson on Tuesday, Dr Oduro said: "This is the first time we are seeing this in the country. What it means is that the president has found it useful that he can tap into the wisdom and the experiences of these former presidents whether they belong to the same party or not.
"I think that it is a positive thing for Ghana. It also moves us one step forward in terms of having to have an understanding that, in a democracy, if your party loses an election it doesn't mean that you don't have anything to contribute.

It means that you should be available and offer yourself and experience to the development of the country, so I think it is a credit to both the current president and also all the three former presidents who accepted the invitation and went for the meeting."