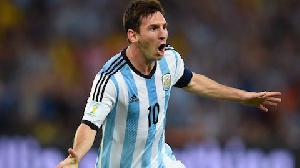 Argentina coach Alejandro Sabella says Lionel Messi has shown he is the best player in the world ahead of his side's World Cup quarter-final against Belgium.
Messi has netted four goals in as many appearances in Brazil, while he also provided the assist for Angel Di Maria's winner in the 1-0 round of 16 win over Switzerland.

"Messi dependence? Any team that has a player like Messi will depend on him," the Argentina coach said at a press conference.

"The fact that he is doing what he has been doing shows that he is the best in the world, but there's more to this team.

"Against Switzerland, [Rodrigo] Palacio was the one who won the ball in midfield before he set up Messi ahead of the goal. Without Palacio, we would not have scored that goal.

"One always expects Messi to do something different. He can always surprise and do something unexpected. But then again, it's not really a surprise anymore with Messi when he does something unexpected.
"Four years ago, Messi was criticised and now we are believed to be too reliant on him..."

Sabella then went on to stress that Argentina cannot afford to take Belgium lightly if they are to reach the semi-finals of the competition.

"Belgium have a very good team. They have a bit of a golden generation. They had a similar generation in 1982 that beat Argentina.

"They have a lot of players who play in the Premier League. They're a powerful team and we have to take our measures.

"Belgium have some superb individual players and work very well as a team. They have one of the best goalkeepers in the world and their defenders play at great clubs in big leagues."