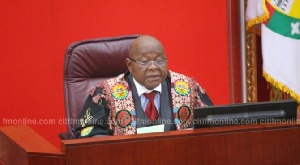 Minority Members of Parliament have expressed anger at what they have described as disrespect and bias on the part of the Speaker of Parliament, Professor Mike Ocquaye, towards them.
This is not the first time such an accusation has been levelled against the Speaker by opposition National Democratic Congress (NDC) MPs.

The latest accusation happened on Wednesday 15 March during the concluding debate on the maiden budget of the New Patriotic Party government.

Minority Leader Haruna Iddrisu and Minority Chief Whip Alhaji Muntaka Mubarak, who stood on their feet to draw the Speaker's attention to inadequate numbers in the chamber to approve the budget, were ignored when the Speaker rather put the question to vote at a time the opposition MPs believed the House did not constitute a quorum to transact parliamentary business.

This angered Mr Iddrisu, who registered his side's displeasure at the Speaker's action towards the NDC MPs.

Mr Iddrisu told parliament: "I'd risen earlier, Mr Speaker, and I don't want to believe that we could not catch your eye. That is why we are in the frontbench and as leadership and we demand that we are accorded the respect. When it has to do with back benchers, we can understand, but not when our leadership will stand on our feet and more importantly draw your attention to a matter on the Standing Orders.
"This house is governed by the Standing Orders. And as Speaker and Chairman, we take inspiration from you for the standing orders to be respected and upheld at all times.

"Order 109 is definite and certain, even as Mr Speaker wants to put the question. If you have allowed us the opportunity, this is an important motion and Mr Speaker we want to be respected, we want the Standing Orders to be respected. Even when you announced the Elephant government's elephant size ministers…again I attempted to catch your attention. An elephant government has announced an elephant size government with no respect for lean government. Mr Speaker, we want to be respected. We are unhappy about it. Even when we agree to rules of debate which the Majority Leader had preceded and I was being interjected, we imported same. I doubt if fairness was applied in respect to time allocation but Mr Speaker, we want to work together, but we feel undermined by your inability to have recognised neither the Whip nor the Minority Leader.

"If you want us to guide you in managing this House, we will do so when we have the assurances that you are respecting us…"

But Majority Leader Osei Kyei-Mensah-Bonsu was taken aback at the choice of words of the Minority Leader and urged him to retract them, but the Tamale South MP would not yield.