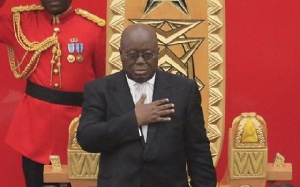 Minority Members of Parliament have described President Nana Addo Dankwa Akufo-Addo's government as wasteful for spending state funds on luxurious parties
According to the Member of Parliament for Ketu North, James Klutse Avedzi, Nana Addo must disclose the amount spent on the lavish parties.

At a press conference on Tuesday April 18, he explained that "We have seen evidence of parties with some drinks, some custom-made with his name on it…we call on the Akufo-Addo government to disclose the source of funding. play

Speaking on the 110 ministers appointed by the President, Klutse-Avedzi said the appointments had worsened the economy due to the huge cost of managing such government appointees.

He said "the decision to appoint this elephant-size government has caused consternation among an overwhelming majority of Ghanaians. The explanations offered for it have been jaw-dropping. We have been told by the government propagandists that the appointment of this humongous number of ministers is a way of protecting the public purse. What a paradox! play

"Another weak explanation, this time proffered by the president himself, is that the economy is in such a dire situation that requires this large number of ministers to accomplish the task of putting it back on track. Another paradox."
Avedzi stated that Nana Addo has failed to protect the public purse, despite his promises.

"We wish to state plainly that what the president has done is far from protecting the public purse.

It constitutes a direct raid of the economy of the taxpayer. Maintaining the salaries for this large army of ministers will severely burden the poor taxpayer.

These appointments translate into 110 bungalows, 110 salon cars, 110 V8 Toyota Land Cruisers, 110 guards, 220 police guards in their bungalows," he said.