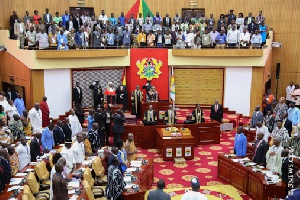 The Minority in parliament has described the maiden financial statement of the Akufo-Addo-led government as a "419 budget".
This, they did, by showing placards with the inscription "419 budget" when Finance Minister Ken Ofori-Atta announced a number of "nuisance taxes" the government would be abolishing or reducing in the fiscal year during the reading of the budget statement in parliament on Thursday 2 March.

According to the new budget, excise duty on petroleum products will soon be scrapped. In addition to that, the government also intends to reduce the special petroleum tax rate from 17.5% to 15%.

Additionally, other taxes will also either be abolished completely or reduced to create a conducive business environment.

Those to be abolished, according to Mr Ofori-Atta, are:

1. The 1% special import levy

2. The 17.5% VAT on financial services
3. The 17.5% VAT on selected imported medicines not produced locally

4. The 17.5% VAT on domestic airline tickets

5. The 5% VAT on real estate sales

6. Duty on importation of spare parts

7. Kayayei market toll

Following this revelation, the minority, with their inscription, suggested government was deceiving Ghanaians.