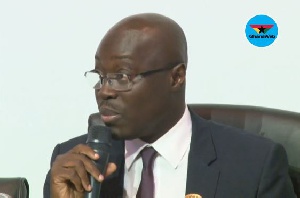 The Majority Chief Whip, Matthew Nyindam has said that the minority in parliament is never spot on with its predictions of the pre-budget analysis.
The minority yesterday at a pre-budget discussion addressed by minority spokesperson on Finance, Cassiel Ato Forson said the impending budget is hopeless and will burden the already overburdened Ghanaian.

"Our analysis show that Ghanaians are in for a tough time in the year 2019. There is no indication that there will be a change in government's policy direction, we therefore cannot agree with his Excellency the president on the claim of hope in the 2019 budget.

Reacting to the minority's prediction, the Kpandai lawmaker said Ghanaians will no longer take the minority serious if it continues to churn-out falsehood and also throw dust into the eyes of the public, only to be exposed by the actuals of the budget.

Speaking to Accra-based 3Fm, Matthew Nyindam said the minority must be mindful of its wrong prediction of the budget.
"Remember even before Ken Ofori Atta came to read the first budget, Ato Cassiel and his people said that Ghana was going to be like 1981, people were virtually going to eat grass because there was nothing good that was coming and for that matter Ghanaians should try as much as possible to put on huge coat other than that everybody was going to die"

He added: "Remember before the 2018 budget, Ato and his people mentioned not less than 12 new taxes they said the government was going to introduced, that businesses were going to collapse and for that matter everybody should cry because there was going to be hell, unfortunately it did not happen. Today the same Ato is claiming that hardship is ahead and for that matter everybody should be prepared because there is no hope. That tells you that they are gradually losing credibility".

Matthew Nyindam however admitted the country is in difficult times but the predictions of the minority is way over the reality.

"I won't sit here and say Ghana, everything is okay, that there is honey and milk flowing everywhere. If I say that, I will be factually inaccurate. I would have been economical with the truth. I admit that yes, times are hard" he said.