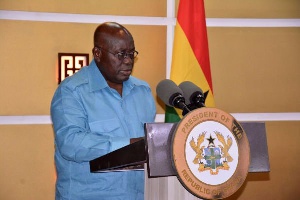 The Minority in Parliament has described as unimpressive the first 100 days of President Nana Akufo Addo.
Addressing a press conference at the Parliament House on Tuesday, [April 18, 2017], the Deputy Minority Leader, James Klutse Avedzi, said "the early signs of the government of our country under the NPP have been anything but impressive.

Instead of an all-action approach towards rolling out their loftily politics and programmes, the initial steps in this government though tentative, gives cause for major concerns."

According to him, the NPP's administration has been characterized by terror due to activities of pro-NPP vigilante groups, Invincible Forces and Delta Force. "It is sad to say that, for a party that claims to have the men, they have been struggling to find their feet since that shameful inaugural address.


They have so far been unconvincing about their mouthwatering campaign promises," he said.



"They are not creating jobs for the masses, they are not alleviating hardships, same for the 110 ministers and deputy apparatchiks, but they are terrorizing Ghanaians by unleashing their several partisan para-military forces to achieve parochial gains," he added.