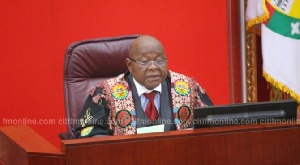 Minority Members of Parliament (MPs) have openly expressed their anger at what they described as disrespect and bias on the part of the Speaker of Parliament, Rt. Hon Professor Mike Oquaye, towards them.
According to them the Speaker's show of blatant bias and disrespect towards them last Wednesday, March 15, 2017 during the concluding debate on the maiden budget of the Nana Addo led government was not the first time.

The latest accusation was when the Minority Leader Hon Haruna Iddrisu and the Minority Chief Whip, Hon Alhaji Muntaka Mubarak tried to draw the Speaker's attention to inadequate numbers in the chamber to approve the budget, was ignored.
This angered Mr Iddrisu, who registered his side's displeasure at the Speaker's action towards the minority MPs on the floor of August House.

"I'd risen earlier, Mr Speaker, and I don't want to believe that he could not catch my eye. That is why we are in the frontbench and as leadership we demand that we are accorded some respect." he lamented.