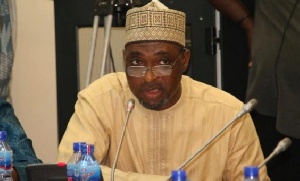 Minority in Parliament have threatened to withdraw their support for the 2017 budget.
This comes on the heels of government's decision to slash allocation to some statutory funds including the District Assemblies' Common Fund, GETFund, etc.

The decision was taken when Finance Minister Ken Ofori-Atta presented the maiden budget of the New Patriotic Party government for the approval of parliament.

But contributing to the debate over the budget, Minority Chief Whip Alhaji Muntaka Mubarak gave the strongest indication of the opposition National Democratic Congress' desire to vote against the budget and warned government to quickly restore it or face their wrath.

Mr Mubarak, speaking on the floor of parliament on Tuesday 14 March, said: "Subject to the provision of this constitution, parliament shall annually make provision for the allocation of not less than five per cent of the total revenue of government to the district assemblies for development and the amount shall be paid into the District Assemblies' Common Fund in a quarterly instalment…

"Mr Speaker, if you take the budget, it will interest you to know that the total revenue and grant is about GHS44.9billion. If you less the grant, you are going to have a total revenue of 43.4billion. Five per cent of this total revenue is supposed to give you GHS2.1billion. Meanwhile, the amount allocated is GHS1.5billion.
"Honourable colleagues, we are talking about just five per cent, but remember this house in 2008 did leave the allocation to Common Fund from five per cent to 7.5 per cent. And Mr Speaker, I've heard one of my colleagues saying they were not paying. Mr Speaker, this is also allocation and members of this house must be interested in what is happening here because apart from the unconstitutionality of it, it is going to reduce the amount of money that will be going to our districts and our constituencies and Mr Speaker, we will not participate in this unconstitutionality. Mr Speaker, we are not going to support this budget if this is not reversed…"

Former Minister of Roads and Highways and Tamale Central MP Alhaji Inusah Fuseini, on his part, described the budget as not giving hope to the country's unemployed youth.

According to him, the contents of the budget are not in the best interest of the country.

But the Majority disagreed and believe their maiden budget was tailor-made to suit and address the concerns of the ordinary Ghanaian.

According to the Minister of Monitoring and Evaluation, Dr Anthony Akoto Osei, the NPP, under President Nana Addo Dankwa Akufo-Addo, will overturn the hardships inflicted on Ghanaians by the former NDC government.