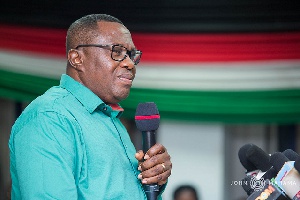 Lawyer Victor Kwadwogah Adawudu, Counsel for National Chairman of the National Democratic Congress, Mr. Samuel Ofosu Ampofo, insists his client is "innocent".
According to him, the contents of the leaked viral audio cannot be attributed to his client, because he (Ofosu) has denied making such comments.

Lawyer Kwadwogah Adawudu, who explained this to PeaceFM News@6pm, added that the innocence of the embattled NDC National Chair who remained silent during the entire interrogation at the Police CID Headquarters on Monday, will be proven at the right time.

"....after long hours at the police CID, my client has been granted 500,000 Ghana cedis bail with General Secretary, Mr. Asiedu Nketia and Greater Accra Regional Chairman, Ade Coker, acting as sureties for him."

"They have asked us to report on Thursday, albeit we do not know whether we will be going to court or the case will be dropped," he added.

Heavy Security Presence

There was heavy security deployment at the Criminal Investigations Department (CID) Headquarters of the Ghana Police Service, when the National Chairman of NDC, Samuel Ofosu-Ampofo reported himself to answer questions concerning a leaked tape in which he is said to have made certain statements inciting violence.
Heavily armed policemen and armoured vehicles were deployed at vantage points to scrutinize members of the public before they entered the premises.

All entrances to the CID headquarters were cordoned off to prevent any unnecessary entry to the premises.

Dozens of heavily armed police officers were around the premises to maintain law and order.



Restricted Access To NDC Solidarity Members

Unlike in previous instances where teeming party supporters massed up at the CID headquarters which sometimes resulted in clashes with the police, the situation was different Monday morning.
A good number of NDC supporters who came to stand in solidarity with the embattled national chairman were prevented from getting close to any of the entrances to the CID headquarters.

They were confined to the road opposite the CID headquarters on the side that leads to Osu and were not allowed to cross to the opposite side.

Mr Ofosu Ampofo, arrived at the Police CID headquarters with his lawyers and party bigwigs.