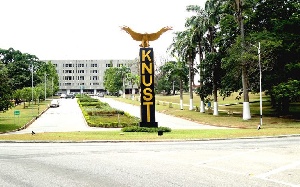 The National Council for Tertiary Education (NCTE) has written to the Interim Council of the Kwame Nkrumah University of Science and Technology (KNUST) to add to its fold, a representative each, from the local chapters of the Teachers and Education Workers Union (TEWU) and the University Teachers Association of Ghana (UTAG).
The seven-member council was sworn in on Thursday to replace the dissolved Governing Council of KNUST following riots by the students which resulted in the destruction of over 40 cars and 10 motorbikes as well as the vandalisation of school property.

In a statement dated 26 October 2018 and signed by Executive Secretary Professor Mohammed Salifu, the NCTE said: "The seven-member Interim Council for the KNUST inaugurated on Thursday, 25 October 2018 included persons from Convocation and management of the university", adding: "It was assured, therefore, that this representation would provide a good reflection of the perspectives of both management and staff of the Council".

"However, following further consultations in the light of concerns raised by various groups about the membership, the government, through the Ministry of Education, has revised the membership.

"Accordingly, I have been directed to inform you that approval has been given for the local TEWU and UTAG to nominate one representative each, to serve on the Interim Council.
"The Hon. Minister kindly requests that you take steps, through the Registrar to receive the nominees and to swear them in at your earliest opportunity".

Already UTAG-KNUST, the KNUST Alumni Association, KNUST administrators as well as the Minority in parliament, have all described the dissolution of the Governing Council as illegal and rejected the Interim Council.

The lecturers and administrators have separately declared an indefinite strike over the matter.