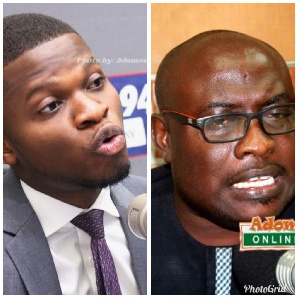 Thu, 28 Feb 2019 Source: Daniel Kaku
An activist of the opposition National Democratic Congress (NDC), Dela Coffie asked that who is really in charge of the party's communications strategy for the party's Communications boss and his deputy for giving conflicting statements on Ofosu Ampofo's leaked tape.
A leaked tape purported to be the voice of Mr. Ofosu-Ampofo in a meeting with party communicators said: "we're going to take her [EC boss] to the cleaners."

"As for the EC chair, we must wage a relentless war on this EC chair. Me, she doesn't want to see my face," Ofosu-Ampofo allegedly said at the meeting which took place after the Ayawaso by-election.

As part of strategic communication plans for the NDC going into the 2020 elections, Ofosu-Ampofo also gave his blessings for the communicators to verbally attack the Peace Council chairman Professor Emmanuel Asante.

"For the first time, I will endorse insulting the National Peace Council Chair," he said to cheers from the NDC Communicators.

"...You have Chief Azorka in my meeting saying, Chief thank you, I said why he said if you had not taken this decision I don't know how my men would have gone back to Tamale. The issue is that they had brought down the Kandahar Boys and the Kandahar boys know our boys from Tamale. You know it was a targeted attack and so once they spot you they invite them, and then around that time my people were so defenceless and they had packed themselves in pickups so cordon off and hounding them was very very easy and they had not anticipated all these things coming so it hasn't been easy but for me how we take the battle from here is most critical.
The Communication team of the opposition National Democratic Congress appears to be in 'crisis' with their handling of party National Chairman, Samuel Ofosu-Ampofo's 'doctored' leaked tape which has gone viral.

Defending the leaked tape of Ofosu Ampofo, Sammy Gyamfi who is the Communications Officer for the party and his deputy Kwaku Boahen have been reported by given conflicting statements in the media.

Whereas the party's Communications Officer, Sammy Gyamfi denies the leaked tape and describe it as 'fake' and 'doctored'– his deputy Communication Officer, Kwaku Boahen has confirmed that indeed the voice and very utterances heard on the tape is that of Mr Ofosu-Ampofo.

Kwaku Boahen in an interview with NEAT FM's morning show, 'Ghana Montie' was very reluctant and said that "We the party [NDC communication] members are very happy of what our Chairman said and we will do exactly that. What he said is dear to our hearts that is why we clapped for him during the meeting which was recorded and leaked."

Backing his Chairman, Kweku Boahen also alleged that "so don't you know the EC boss is a member of the NPP, she wears their T-shirt at secret meetings. She does their [NPP] works for them as EC boss. We won't sit and look at her. We have issues with her before her appointment as EC boss. She is not even fit for the position."
"Just as our Chairman said, we will unleash a war against her. She is a member of the NPP. Nobody can shut us up," he angrily said.

But in a short statement signed by the NDC's Activist, Dela Coffie and copied to the media asked "So, how can the tape be fake and at the same time be doctored? Are we listening to ourselves at all?"

He added, "And what were the conflicting responses from the National Communication officer and his deputy all about?"

He concluded "Who is really in charge of the NDC's communications strategy and co-ordination? Just when you think it can't get any worse, it does. Utterly lamentable ...."


Source: Daniel Kaku