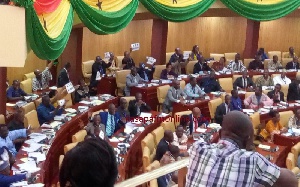 The NDC Minority Members in Parliament on Thursday defied the directive by the leadership of the House against the showing of placards during the presentation of the 2017 budget.
This directive was communicated to legislators last Friday, after the Majority Leader and Minister for Parliamentary Affairs Osei Kyei-Mensah Bonsu argued that the trend is against best practice in parliamentary procedures and casts the Ghanaian legislature in a bad light.

The minority was criticized for their behavior during the president's state of the nation address recently.

This is not the first time MPs have been cautioned on showing placards on the floor.

In November 2013, the then Speaker of Parliament, Edward Doe Adjaho maintained that it is un-parliamentary for members to display placards in the House.

But when it was expected that the Legislators will turn on a new leaf and show a departure from the wrong bad today, the NDC caucus went back to the old order.
They were seen displaying white A4 Sheets with the inscription 419, amidst shouting on top of their voices which made the House momentarily unruly, apparantly in disagreement with certain pronouncements of the Finance Minister.

Speaker of Parliament Rt. Hon. Prof. Mike Ocquaye had a hell of a time restoring order, as the NDC MPs will not budge. He was heard shouts "Order…Hon. members order, but it took more than five minutes to restore nomalcy."

Read the full statement below