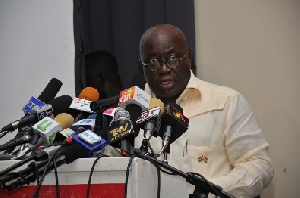 Nana Akufo-Addo has accused the ruling National Democratic Congress (NDC) of waging "tribal campaign" in the Eastern region ahead of the 2016 elections.
He said the performance of the New Patriotic Party (NPP) in the region would determine the outcome of the election of 2016.

"We know of the 'Agenda 50/50' project of the NDC. Our project is different. We are looking for 70% of the popular vote in the Eastern region in 2016. The time has come that the NPP demonstrated its strength in the Eastern region," he said.

He urged the gathering to evolve strategies which would neutralise the obvious "tribal campaign" the NDC would wage in the Eastern region in the run-up to the 2016 election. Nana Akufo-Addo explained that, as per the 2010 census, the region has a population of 2.5 million people, comprising of 1.3 million people of Akan origin and 1.2 million non-Akan.

"They are coming to wage a tribal campaign in the Eastern region; that's why they are talking about 'Agenda 50/50'. We cannot allow them to do that. We have to build a coalition of all the people in the Eastern region.
"Eastern region contains all tribes in the region. It is a microcosm of Ghana, Ghana in one region. Our campaign, understanding and strategy has to be as if we are fighting a Ghanaian election in the Eastern region," Nana Akufo-Addo added during his 'Rise and Build' tour in the region.

He urged the gathering to take the advice of Hon. Gifty Klenam, Member of Parliament for Lower West Akim, who spoke earlier about the need for NPP members to undertake a rigorous "outreach exercise" to bring the clear majority of inhabitants of the Eastern region onto the victory ship of the NPP.

"If we are going to build a coalition, then it must start from the Eastern region. We have to put our house in order. I urge all aspirants, current and former executives, former Ministers and DCEs to come together and help us win the next election," he added.