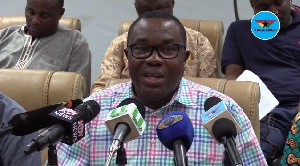 The opposition National Democratic Congress (NDC) has allegedly resolved as part of its strategy to regain power in 2020 to covertly target the lives of some members of the governing New Patriotic Party.
This was contained in leaked audio from a meeting held at the NDC's headquarters four days after the infamous Ayawso West Wuogon by-elections, characterised by violence and shooting.

Six people, according to official police report, were shot at the Bawaleshie polling centre of the constituency during the election held on Thursday January 31. The NDC withdrew from the exercise citing safety concerns.

Addressing participants at the meeting christened post Ayawaso West Wuogon Strategic Communication meeting, a voice, believed to be that of the chairman of the NDC, Samuel Ofosu Ampofo could be heard on the leaked audio stating without equivocation his approach to elections and security had changed completely in the wake of the violence that erupted during the by-election.

He was also heard saying that he had spoken to someone believed to be former President John Mahama in order to get him a driver "probably from one of our retired security people who can drive and at the same time give him protection and do some covert operations", which is surreptitiously targeting some members of the NPP.

"We will go after them," he said. "But we will not go after them face-to-face. We have to use tactical operation to make life very uncomfortable for them. We will target some people and we will let people know that their lives are in danger.
"Once their lives are in danger they themselves will be careful. As for that one I want to assure that we will go all out to ensure …as President Mahama said when it comes to this game we are better than them."