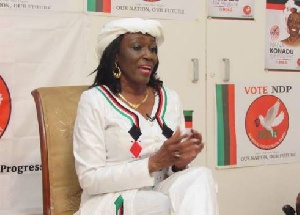 The leadership of the National Patriotic Party (NDP) says there are still some good people in the National Democratic Congress (NDC) and that the party will work towards attracting those people to its fold.
In an interview with the BBC Wednesday, the flagbearer for the NDP, Nana Konadu Agyeman Rawlings mentioned that the country is going down to the dogs and the party that was supposed to actualize the probity and accountability mantra, has been engulfed with corruption.
According to Nana Konadu Agyeman Rawlings, despite the issue of corruption, there are still some good people in the NDC and the party will work efficiently in winning them to the NDP.