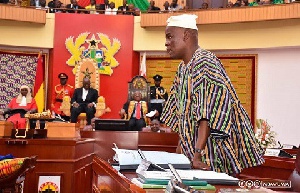 Whereas the ruling New Patriotic Party (NPP) is touting its achievements 100 days in office equating it to one day, one achievement, the opposition National Democratic Congress (NDC) thinks otherwise.
In their view, the 100 days of President Nana Addo Dankwa Akufo-Addo led government has rather been characterized by a litany of broken promises contrary to what his vice President Dr Mahamudu Bawumia put out on Monday April 17, 2017.

Minority Leader, Mr Haruna Iddrisu who was commenting on the matter said the Akufo-Addo government was on a path to "failure and would soon flip flop on many of its promises."

According to him, most of the basic promises made to Ghanaians prior to the 2016 campaigns have not been fulfilled wondering why the Vice President will attempt deceiving Ghanaians with non-existent achievements.
Meanwhile Deputy General Secretary of the party, Koku Anyidoho has berated Dr Bawumia for holding an event on a season when Christians are celebrating the death and resurrection of Christ indicating that it is an insult to the Christians in the country.

He described the town hall meeting as lawlessness and saying that it puts an icing on the cake of lawlessness by the Akufo Addo-led government.

"More than 75% of the public maybe didn't listen at all because people attend Easter crusade, Revellers are revelling people are in their villages, families are gathering, people are travelling and you go and do this thing on this day. What stopped them from doing it tomorrow when everybody will be attentive? Because they want to hide behind the smokescreen, they are using a lot of pretense so you go and look for small channel through which you are communicating. And never was the President himself. How come he didn't do it and Bawumia had to do it. So up in issue they got it all wrong," he disclosed on Accra-based Kasapa FM on Tuesday.