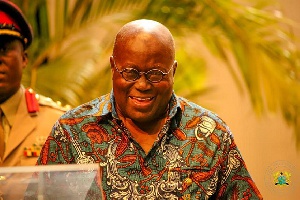 The Ireland branch of the New Patriotic Party (NPP) says President Akufo-Addo is committed to creating jobs for Ghanaians.
Alfred Marshall Agyapong, Chairman of the Ireland branch of the NPP, in a statement, reiterated the commitment of government to fulfill its manifesto pledge with respect to job creation.

"The people of Ghana gave the New Patriotic Party the mandate, because of the confidence they had in our leader, Nana Addo Dankwa Akufo-Addo, and indeed he and his team will deliver," Mr. Agyapong added.

The statement was issued in Accra and signed by Daniel Pelu-Jones Branch Deputy Communication Director, who is in the country to attend the NPP delegates Conference to be held in Cape Coast in two weeks' time.
According to him, "The President and government are putting things together to revive the economy, as the previous government left a total debt of GHC130 billion."

The chairman pointed out that Mr. Akufo-Addo's "bold policy statement of creating one factory in every district in Ghana remains a key objective."

Mr. Agyapong is expected to arrive in Ghana soon to join other executives of the NPP-Ireland branch for the party's National Delegates Conference.