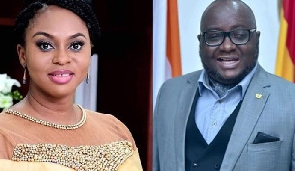 As the New Patriotic Party (NPP) gears up for the second leg of its primaries on Saturday, June 20, Media General's Election Command Centre is already on the ground to bring you a comprehensive coverage.
In this report, we focus our lenses on some four of the 20 constituencies in the Greater Accra Region where elections will be held this weekend.

These are constituencies we find to have very interesting sociopolitical-cum-historical dynamics which may bring to bear a keen contest, what we choose to refer to as 'hot spots'. It is worthy of note that among these 20 constituencies, 7 incumbent MPs will go unopposed, as such, we pick our four 'hot spots' from the remaining 13 constituencies where there will be a contest.

These are: Dome Kwabenya, Ablekuma North, Tema West and Adentan constituencies.

Adwoa Sarfo vs Oquaye Junior's 'rematch' in Dome Kwabenya

It is a two-horse race in the Dome Kwabenya Constituency (DKC) where the incumbent, Deputy Majority Leader in Parliament and Minister of State in Charge of Public Procurement Sarah Adwoa Safo will be seeking re-election after having served two terms.

But will her challenger, Ghana's Ambassador to India Mike Oquaye Junior win the hearts of delegates this time having lost to her in 2012?
DKC, as its political history has shown, is a safe seat for the NPP. The Speaker of Parliament, Prof. Aaron Mike Oquaye, was the first to occupy the seat but stepped down after two terms. The incumbent MP, Sarah Adwoa Sarfo, took over and has also had two terms and still asking for more.

In a rather interesting twist, her sole contender is the son of the former MP and the Speaker of Parliament. But will delegates give Mr. Oquaye a chance to continue from where his father left off? Delegates will decide on Saturday and your Election Command Centre will keep you posted.

'No nonsense' Ablekuma North

The Ablekuma North has gained notoriety for 'booting' out Members of Parliament after their first round. It was only in 2012 since 1992 that the then MP, Justice Joe Appiah, broke the tradition to retain the seat. In this primaries, incumbent Nana Akua Owusu Afriyie is a first-time MP and sits on three committees of parliament – Special Budget, Environment, Science and Technology and Standing Orders Committees. For her to continue her stay in the House, she has to slug it out with two male contenders, John Kojo Agbotey and Kwadwo Poku Adjei-Bawuah and another female aspirant, Sheila Bartels, father of NPP stalwart, former MP and minister of state in the Kufuor-led administration, Kwamena Essilfie Bartels.

Carlos Ahenkorah's 'boy' rise against him for Tema West slot

The Tema West MP and Deputy Trade Minister, Carlos Ahenkorah, is seeking re-election but he must be really 'carlos'(sic) to be able to succeed in that bid because his own former team member during the last election is coming against him. The constituency's "darling boy", as many call him, Kwasi Opoku Bosompem, an Assembly Member for Sakumono Electoral Area and the immediate past Presiding Member for the Tema West Municipal Assembly is up for the race. He was part of the Deputy Trade Minister's campaign team in the last election and was instrumental in kicking out the former MP, Naa Torshie Addo. One Kweku Armquasi-Armuzuah has also joined the race for the slot.
Incumbent Buaben Asamoa challenged by constituency chair, two others

In Adentan, the incumbent Member of Parliament and the party's Director of Communications, Yaw Buaben Asamoa, faces off with the constituency chair, Emmanuel Kwasi Mantey, who claims the incumbent cannot retain the seat even if he wins the primaries. He must have been cognizant of the fact that the Adentan seat is a swing seat. Key to note and possibly a point of fear for Mr. Buaben Asamoa is the fact that the last 2 incumbent MPs before him both lost in their primaries.

Healing internal wounds

Meanwhile, Political Scientist at the University of Ghana (UG) Alexander Kaakyire Duku Frempong concedes the contests in some constituencies are so fierce that they may result in disaffections that need to be healed before the December 7 polls. He is, however, concerned that there may not be enough time to heal these wounds before the elections.