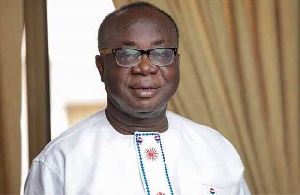 Acting National Chairman of the New Patriotic Party, Freddie Blay, says he wishes he had the backing of President Akufo-Addo as he contests to become the substantive chair of the party.
There are three other candidates in that race, Former Upper West NPP chairman, Alhaji Abdul Rahman (Alhaji Short), Party Stalwart, Stephen Ntim and Political scientist, Dr Richard Amoako Baah.

Even before the election in July, Stephen Ntim has alleged that Alhaji Short is the candidate of President Akufo-Addo.

In a leaked audio, Stephen Ntim is heard saying the president impressed upon him to step down for Alhaji Short.

But speaking to TV3, Freddie Blay mentioned, he would wish he was in that position.

He told Kwakye Afreh-Nuamah in an interview, "Definitely, I have not heard Alhaji Short saying that he is the president's candidate…I might as well also say that I am the president's candidate. Why not? He is the president of our party and the country. Definitely, I would love to have the president's backing. Why not? It makes my work easier…"


The former Ellembelle MP also indicated that he had personally met the president and had a "frank" discussion with him since he made up his mind to join the race, although he would not reveal the details of the meeting.



The National Delegates Congress by the New Patriotic Party (NPP) which was scheduled to be held on June 15th has been scheduled to July 6th - 8th.