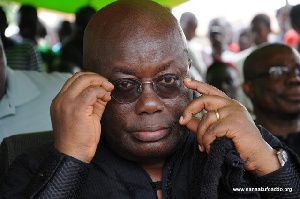 A Communications team member of the National Democratic Congress (NDC) has blamed President Nana Addo Dankwa Akufo-Addo as the master minder behind the disgraceful curse by some members of the ruling New Patriotic Party (NPP).
During a panel discussion on UTV's 'Adekye Nsroma' show, the NDC Communicator noted that "these are some of the actions a party face during internal elections when the leader of the party selects specific persons he wants to work with. This has been the norm in NPP ever since Akufo-Addo led the party till date".

He condemned the action but stressed "persons in the NPP who invoked curses on their authorities did that to satisfy their displeasure . . . because it is sad and disheartening when a leader's decision causes your disqualification, when under normal circumstances it should not be so".

Anim Piesie called on executives of the NPP to try and solve problems it has with its aspiring parliamentary candidates to bring peace in the upcoming elections.

NPP directs suspension

The General Secretary of the New Patriotic Party (NPP), Mr John Boadu, has directed constituency executives of the party to suspend all persons who claim to have invoked curses on the party leadership on allegations that their preferred candidates were disqualified from contesting the party's upcoming parliamentary primaries.
Mr Boadu addressing a press briefing Monday said the party was completely appalled by "such gross misconduct".

Juaben Curse

About 300 NPP supporters in the Juaben constituency of the Ashanti Region on June 5, 2020 defied Covid-19 safety protocols to demonstrate against the disqualification of their preferred aspiring parliamentary candidate.

They were protesting what they described as a party decision to allow the MP for the area, Madam Amma Pomaa Boateng to run unopposed in the NPP primaries.

They also slaughtered sheep and invoked curses on any member of the party leadership whose actions would result in the disqualification of their preferred candidate.
Tano North

Similarly, some party members in the Tano North constituency, where Freda Prempeh was the Member of Parliament also invoked curses on the leadership of the party for allowing Freda Prempeh to re-contest the primaries unopposed.

Offinso South

In the Offinso South constituency in Ashanti, some disgruntled members of the party last Thursday also invoked curses on persons they said influenced their disqualification of their preferred candidate Dr Yaw Opoku.

Armed with a fowl, a bottle of schnapps and a crate of eggs, the youth numbering about 100, called on all the river gods in the area to deal with any patty official who was invloved in the disqualification.