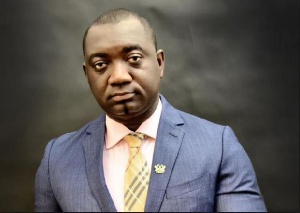 Edmund Kyei, Asokwa Constituency 1st Vice Chairman of the New Patriotic Party, has hit back at former President John for criticizing the Akufo-Addo led-government during his recent visit to the Oti Region.
He said Mr Mahama's accusation that the NPP government has created a mess since assuming office is borne out of mischief and deliberate attempt to incite the public against the administration.

In a statement released on Tuesday, the NPP communicator urged the former president to allow President Akufo-Addo to address the numerous socio-economic problems his 'corrupt' administration left behind and refrain from hurling innuendos.

Below is Edmund Kyei's full statement

Ghanaians Gave You Ample Time To Deliver But You Failed Woefully

On ex President's tour to Oti Region where he met with some communities, he made an irritating statement, saying "I will fix every mess so Ghanaians can have peace of mind," there is a saying that, he that is down fears no fall. Former President Mahama has amazed most of us with his recent comment of coming back to fix our problems.
I want to remind the ex president of how he created the mess Akufo-Addo is solving now, he took inflation to double digits and now Akufo-Addo's government has brought it back to a single digit, per bank of Ghana's statement on the banking crisis, it started in 2013 and Mahama couldn't fix it but gradually the current government is fixing it and world Bank has even commended the government for such intervention to save customers money.

During Mahama's era scandals and corruption were like albatross on his neck, he was even under investigation for the purchase of an aircraft hanger, which was allegedly said the cost was inflated and even the aircraft hanger was costly that the aircraft itself, all these happened when he was the vice president. Corruption was a canker in his government and almost all projects costs under him was inflated.

We heard and read the almighty green book which he circulated during his era and touting how he has done massively on road construction but when he left power, reality exposed him on most of the roads in the green book were GHOST ROADS, he never construct much roads as he made Ghanaians believe. Now what we see in Ghana is the road deficit which Nana Addo is fixing gradually.

I want to encourage Ghanaians to be patience and pray for the President and by ten years to come most Ghanaians will be more enlightened through FREE SHS and there will no room for deception again.

…signed.. Edmund Kyei Asokwa Constituency 1st Vice Chairman Member NPP Communication Team