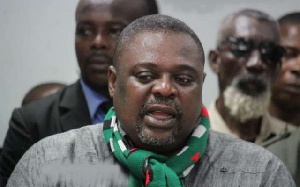 A Deputy General Secretary of the opposition National Democratic Congress (NDC), Koku Anyidoho has taken a swipe at the Ghana Bar Association(GBA) and the Ghana Journalist Association(GJA) questioning the two bodies over their silence in the controversial issues emerging from the governing party.
He said it is disappointing that the two bodies have failed to take any strong moral stance on the fall out from the altercations of the two leaders in the NPP which somewhat has criminal dimensions to it.

"As a responsible political party in the entity of the NDC, we are saying that we're surprised that the Ghana Bar Association(GBA), the Ghana Journalist Association(GJA), are quiet on this issue. It is a shame and they must bow down their heads in shame, and it's a disgraceful conduct on their part, because if it was I Koku Anyidoho who said this, only God knows what the GBA would be saying by now. Why this level of hypocrisy and double standards?" he questioned on Anopa Kasapa on Kasapa 102.5 FM Thursday.

However, he commended the Ghana Integrity Initiative for demanding a serious probe into the worrying issues from the governing party.

"I salute the Ghana Integrity Initiative(GII) who's been saying that the apology is not enough and that the alleged bribery claim must be investigated," he said.
The Minister for Gender, Children and Social Protection, Otiko Afisa Djaba, and the Northern Regional Chairman of the New Patriotic Party (NPP), Daniel Bugri Naabu, have been bonded by the party to be of good behavior.

The decision was taken after a National Council meeting by the party Tuesday over the recent public altercations between the Gender Minister, and the Party's Northern Regional Chairman, Daniel Bugri Naabu.

The two leaders have apologized unreservedly for their action, but Anyidoho insisted that the apologies won't suffice the criminal allegations made against each other over their feud.