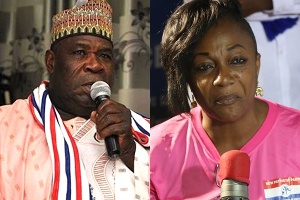 The Deputy General Secretary of the governing New Patriotic Party (NPP) Nana Obiri Boahen has described as "regrettable" and "unfortunate" the fracas between the Minister of Gender, Children and Social Protection, Otiko Afisa Djaba, and the Northern Regional Chairman of the party, Daniel Bugri Naabu.
He has urged both parties to cease fire on insults against each other.

Mr Naabu last week barged into a supposed meeting between the Gender Minister and women's group in the Northern Region on the selection of persons on the award of contracts for the National School Feeding Programme and explained that the minister had no right to appoint a regional coordinator.

Ms Djaba accused Mr Naabu of taking goats and cows as bribes to award the contract and has threatened to expose the chairman if he does not stay off her case.
Speaking to Class News, Mr Boahen said the party would intervene to resolve the matter.

"I've heard both sides, but speaking for myself as an individual, I think it's unfortunate and quite regrettable. I believe that the party would meet and take a serious look at it, but meanwhile I will crave the indulgence of the combatants to exercise restraint and some amount of tolerance," he stated.