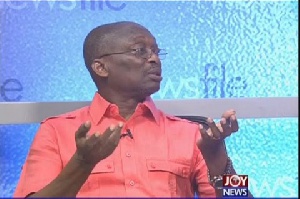 Veteran Journalist Abdul Malik Kweku Baako has described the ruling NPP Northern Regional Chairman, Daniel Bugri Naabu's claim that two ministers in the Akufo Addo government masterminded the death of late Upper East Regional Chairman as complete rubbish.
According to him, in as much as he does not place any value on the allegation, he's all for an investigation and for Bugri Naabu to be challenged to substantiate his claim, as that is the only way for all to see that his claims are bogus and fradulent

The maverick Northern regional chairman of the ruling New Patriotic Party Daniel Bugri Naabu has accused Gender Minister Otiko Afisa Djaba and Upper East Regional Minister, Rockson Bukari of being involved in the plot that led to the murder of Adams Mahama, the late NPP's Upper East regional chairman.

"…Otiko has been a controversial woman in the party. As I'm telling you, this Adams issue, she was deeply involved, so because of that most of us who know her will call her a controversial woman.

"You'll be surprised that some of these people who masterminded the killing of Adams have come to take positions in the government … like the Upper East Regional Minister. He was deeply involved in the masterminded killing of Adams," Mr. Naabu told Radio XYZ.

But commenting on the matter, Abudul Malik Kweku Baako who's Editor-in-Chief of the New Crusading Guide Newspaper was confident that Bugri Naabu's assertions will be found to be empty when he's confronted to provide evidence to back his claim.
"Where was Bugri all this time, when the late Adams Mahama died, he Bugri spoke on radio and TV. He accused certain personalities in the NPP of being behind the death…he mentioned names. Bugri pointed fingers at Kwabena Agyepong and Afoko. This man (Upper East Regional Minister) whom Bugri has accused of masterminding the death of Adams Mahama, he was the same person who served as Spokesperson for late Adams family. At the funeral this man made a very emotionally charged speech and without mentioning names he pointed at people he claims were within the party who were responsible for it. Bugri was there at the funeral, he knew this man was the mastermind of the murder and he sat down quiet and allowed this man to make those allegations."

"Indeed the Council of Elders of the NPP issued a statement urging all to cease innuendos, divertions and finger pointing at people within or without the party and rather allow the investigators to do their professional work. Where was Bugri when the council of Elders asked all who have evidence to give same to the investigators."

The late NPP Upper East Regional Chairman, Adams Mahama died in 2015 after he was acid bathed.

Following investigations, Police identified three suspects. One was eventually discharged in court, the other one is still in hiding with his wife leaving behind their baby.

However Gregory Afoko, brother of Paul Afoko, suspended National Chairman of NPP, is currently standing trial for his alleged involvement in the murder.