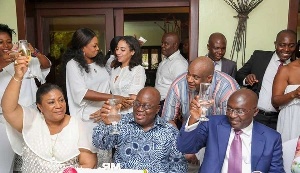 A deputy communications director of the opposition National Democratic Congress (NDC) Kwaku Boahen, is alleging that President Nana Addo Dankwa Akufo-Addo within 100 days in office has thrown 7 lavish parties for friends and family.
He further claimed that the parties were either held in his hometown at Kyebi or at the Flagstaff House at the expense of the state, a conduct he finds worrying and in variance with the president's own promise of protecting the state purse.

"Is that how he is going to protect the state purse by throwing lavish parties for friends and families? Using state resources to buy expensive and customized whiskies to enjoy with friends", he asked.

Mr Kwaku Boahen demanded to know how much it costs for the presidency to organize each of those parties for Ghanaians to know how their taxes are being used by the current government.

While indicating that the minority is justified in accusing the president and his government of wasteful expenditure on luxurious parties he insisted that the cost must be made public in the spirit of probity and accountability.
But Nasara Coordinator of the New Patriotic Party Kamal Deen Abdulai who disagreed said when it comes to profligate expenditure the NDC has an unbeatable record citing instances where monies were blown on parties under the watch of former President Jerry John Rawlings.

He however denied that the parties were held at the presidency but said at the private home of the president for few relations and friends in commemoration of certain important events of his life including the 20th anniversary of marriage to the First Lady.

"If it comes to profligate expenditure nobody can match with the NDC. Under the former Minister of Finance Kwame Pepra the NDC was noted for reckless spending and I think it is has informed the reason for their irresponsible opposition.

During their time they failed to protect the national purse which the current government is doing", he alleged.